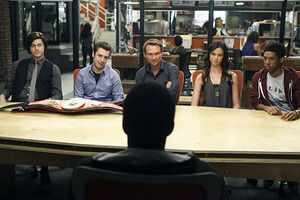 Contra Security is a high tech security firm that was created by former thief and counterfeiter, Oz Osbourne. Contra is made up of geniuses and "legitimate" thieves that were all personally recruited by Oz. Contra does whatever it takes to find a flaw in the security systems of their clients. After Oz becomes broke, he sells the firm and it becomes one of many security firms to become a divisional branch of Optimal Consumer Products (O.C.P.) He manages to buy it back in the series finale.
Known Employees
Edit
Known Clients
Edit
Ad blocker interference detected!
Wikia is a free-to-use site that makes money from advertising. We have a modified experience for viewers using ad blockers

Wikia is not accessible if you've made further modifications. Remove the custom ad blocker rule(s) and the page will load as expected.